Police are looking for a man with a prior sex crime conviction accused of trying to lure a 15-year-old into his pickup near Brimhall Road and Verdugo Lane in west Bakersfield.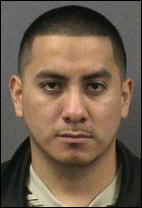 They say a passerby saw 27-year-old Hector Santiago try several times to get the girl into his truck at around 10 a.m. Friday.
He is described as a 5-foot-5, 130-pound man that has short hair and is clean in appearance. At the time of the incident, he was wearing an orange long-sleeve shirt and faded blue jeans.
Santiago drives a black Chevrolet pickup with a California license plate number of 8E36397.
Those with more information are being urged to call police at (661) 326-3803.
– Anthony Pollreisz