Police have released surveillance images of the man they say tried to rob the Wells Fargo bank at Panama Lane and Wible Road in south Bakersfield.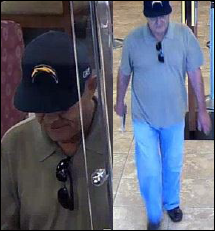 They say the man gave a note to a teller just before Tuesday evening, then left before getting any cash. Police are not sure which direction from the scene he fled.
He is described as a 50- to 60-year-old male. He was wearing a San Diego Chargers baseball cap at the time of the incident.
Those with more information are being urged to contact Det. Jeff Paglia at (661) 326-3511 or the Bakersfield Police Department at (661) 327-7111.
– Anthony Pollreisz