Police in Bakersfield are asking for help finding a man wanted on multiple domestic violence charges.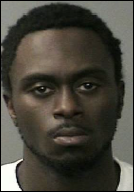 They say 23-year-old Bryson Dean recently assaulted a victim, and has assaulted several other victims previously.
Dean is 5-foot-11 and weighs around 140 pounds. He has short black hair and brown eyes.
Those with more information are being urged to call Det. Mitch Galland at (661) 326-3557 or the Bakersfield Police Department at (621) 327-7111.
– Anthony Pollreisz