Bakersfield Police hope tips from the public will lead them to the man who held up the Jack in the Box restaurant on Gosford Road near the Home Depot store.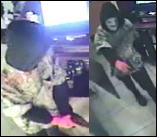 The suspect was wearing a white mask and orange gloves when he pointed a handgun at the clerk around 3 a.m. on April 14.
Those with more information are being urged to call Det. Verion Voleman at (661) 326-3868 or the Bakersfield Police Department at (661) 327-7111.
– Suzanne Grant