Sheriff's investigators are looking for man who used a debit card taken during a home invasion robbery in east Bakersfield.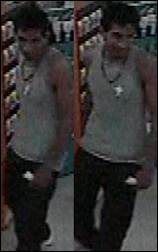 A person living at the Camino Primavera home suffered a head injury after being assaulted during the March 30 incident, which happened at around 4 a.m. Detectives believe at least one suspect fled the scene in a white 1980s-model sedan.
Moments later, the card was used at a mini mart. The person accused of using the card is described as a 5-foot-9, 150-pound male in his 30s who was wearing a gray tank top and dark pants.
Those with more information are being urged to call (661) 861-3110.
– Anthony Pollreisz