Police are looking for at least one shooter after an attempted drive-by outside Lowell Park in Bakersfield.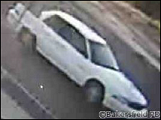 The shots came from a white four-door similar to a 1990s Buick Skylark after 7 p.m. on June 4, with the car fleeing eastbound down 4th Street afterward.
The victims fled the area on foot and did not report the incident to officers, according to a press release. It's not believed the victims were hit.
Those with more information are being urged to call Det. Mike Gerrity at (661) 326-3273 or the Bakersfield Police Department at (661) 327-7111.
– Anthony Pollreisz